Roosevelt Island Historical Society
supported by Amalgamated Bank
and New York Public Library
Presents 2016 Spring Lecture Series
2016 RIHS Lecture Series supported by Amalgamated Bank and New York Public Library Click for link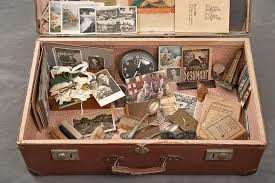 THE STORIES OF THE SUITCASES
Tuesday, February 9 at 6:30 p.m.
When Willard Psychiatric Center closed in 1995, an employee discovered a large collection of suitcases in storage in an attic. Many of these pieces of luggage contained the personal belongings of former patients. Jon Crispin has photographed the suitcases and their contents; his images offer a window into the lives and personal stories of patients admitted between 1910 and 1960. He will share the photos and what they reveal about the past.
THE SS COLUMBIA AND RETURN OF THE HUDSON RIVER DAY LINER
Tuesday, March 8 at 6:30 p.m.
Steamboats ruled the Hudson River and many of America's waterways in the early 20th century. The SS Columbia is one such steamboat; it transported fun-seeking residents from downtown Detroit on an 18 mile, 90-minute pleasure trip to Bois Blanc Island in Canada. Liz McEnaney, Executive Director of the SS Columbia Project, will share the history of the 113-year old boat, its status as a National Historic Landmark vessel and plans to revive the great tradition of steamboats on the Hudson River.
CHILDBIRTH IN 19TH- CENTURY AMERICA: THE ROLE OF CHARITY HOSPITAL
Tuesday, April 12 at 6:30 p.m.
For centuries, childbirth was a dangerous experience, for both women and their babies. In the 19th century, midwives, nurses and doctors at Charity Hospital, which operated on Roosevelt Island until 1957, were recognized as leaders in making childbirth a safe experience. Janet Brickman, Professor of History at the United States Merchant Marine Academy in Kings Point, will describe some of their practices.
Willard Suitcase                              S.S. Columbia                                   Maternity Hospital
All programs are free and open to the public. New York Public Library Branch, 524 Main Street, Roosevelt Island. www.rihs.us
 ROOSEVELT ISLAND FEATURED ON "$9.99 with Dave Evans" Click here for flyer
 ROOSEVELT ISLAND TO BE FEATURED THIS WEDNESDAY
ON "9.99 WITH DAVE EVANS"
"Great Outdoors" will have its first airing this Wednesday, December 16th at 9pm.  Remember, our show airs on NYC Life, channel 25 for most, channel 22 on Optimum/Cablevision.  It will rerun as follows:
Fri 12/18/15       2:00pm
Sat 12/19/15      9:30pm
Tue 12/22/15     4:30am
Please tell those you know to watch and feel free to tag us on Twitter or any other social media you're sharing the news on.
The station's twitter handle is @nyc_media and Dave's is @DaveEvans999.
You can also watch the episode anytime online, on our Video on Demand site:
http://a002-vod.nyc.gov/html/videos.php?id=3184
The link will go live at 9pm on December 16th.
Each year, thousands of visitors stop in the Kiosk. Some swoop in, grab a map, and leave, while others are extremely interested in Roosevelt Island and spend time chatting with our staff. Two recent visitors were so pleased with their experiences that they took the time to follow up with e-mails to Judith Berdy.
"[…] thanks so much for remembering to send that!  And thanks for chatting with us on Saturday.  Another really enjoyable visit to RI!  Hope to see you there again soon – have a great week and all the best, Tom."
"I want to thank you for taking time to help me understand and appreciate Roosevelt Island.  I spent more than three hours walking around, taking photos and visiting with people there before taking the tram back to Manhattan. The map was an incredible help.  Something else I got from you was the yellow Archtober brochure.  I attended four interesting tours and lectures which I would not have known about had you not told me about the annual event.  Anyway, now that I'm back in Portland, OR I found your card among my NYC papers and now you know that your presence at the information center on Roosevelt Island made a difference to my NYC experience.  Thank you.  YT,  Corlene"
On Saturday. October 10th, the RIHS participated in our Fall For Arts.  Our kids had a great time coloring images of our landmark structures.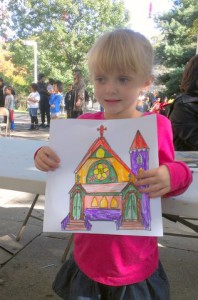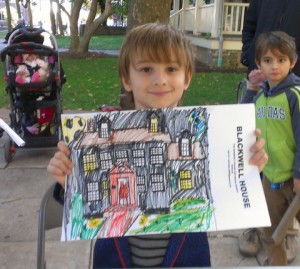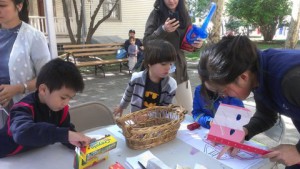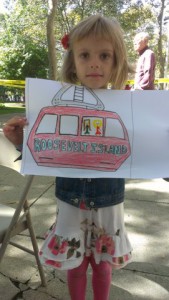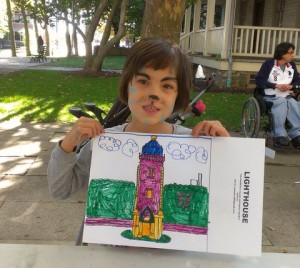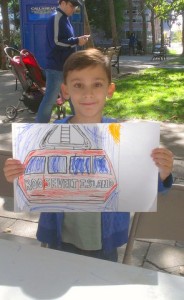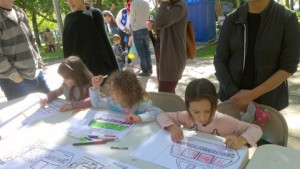 Roosevelt Island Historical Society's August Newsletter
iDig2Learn hosts a free Monarch Butterfly Corridor planting on Roosevelt Island this SAT July 18th from 11 AM to 3 PM Rain or shine.  Meet at RI Community garden main gate at 11 AM.
In partnership with RIOC, RIGC, RIHS, RIYP and the Girl Scouts, iDig2Learn will host a planting of the milkweed plant that monarch butterflies, which have suffered a severe loss of habitat, heavily depend upon.  These destinations will serve as a flight corridor for monarch butterflies on their migrations south to warmer weather every fall.
Thanks to generous grants provided by Citizens Committee for NYC, City Gardens Club of NYC and Grow to Learn NYC, and fiscal sponsors 217PTA and RI Youth Program, this event is free.
Please join us as we form a managed milkweed haven together and restore wildlife micro-habitats here on Roosevelt Island.
Visit: .iDig2Learn.org
Here's a link to an article by Judith Berdy, which was published on Politico.com on Saturday, June 13, 2015.
At its heart, this American landmark is a a living, historical embodiment of the major issues Hillary Clinton wants to champion. By Judith Berdy
Roosevelt Island Historical Society's Newsletter