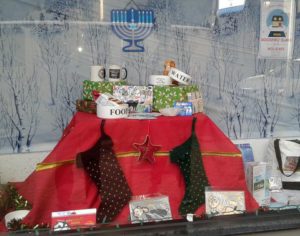 Come visit our holiday windows in Rivercross, located next to the Subway Sandwich Shop, every day in December.  Enjoy our windows done almost entirely of items available for sale in the RIHS Visitor Center Kiosk.
The Kiosk is open daily (except Tuesday) from 11:00 a.m. to 4:00 p.m. and until 9:00 p.m. on Wednesdays.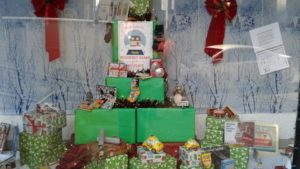 Our tree of gifts is full of great items to buy, especially all kinds of buses, trains, taxis, and even our tram!  
Our mischievous squirrel, Geraldine, is at it again, eating Santa's treat of cookies while waiting for him to arrive.  Our other friendly squirrels, Gerard and Jeanette, are busy coloring our Coloring Book!! They are snuggled up in bed and having a fun time reading all those books about Roosevelt Island.
Thanks to our super decor elf, Karine Wong, for her creative talents along with Judith Berdy, Judy Connorton, and Ellen Jacoby!