NORTH BROTHER ISLAND:
THE LAST UNKNOWN PLACE IN NEW YORK CITY
With Christopher Payne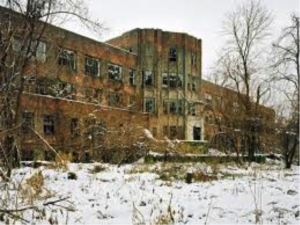 Travel to a place frozen in time: North Brother Island, which few have heard of, sits in the East River between The Bronx and Riker's Island. Christopher Payne, photographer, will explore the colorful past, present, and future of this island in a lecture.
New York Public Library Branch
524 Main Street on Roosevelt Island
Thursday, March 2, 2016
at 6:30 p.m.
North Brother Island once was the site of Riverside Hospital, a quarantine hospital originally situated on Blackwell's Island, and later to residences for veterans, and finally a juvenile drug treatment center. Today, it is a wildlife sanctuary, home to the Black-crowned Night Heron and nature is reclaiming the abandoned buildings.  It is closed to the public and Payne was granted permission by the City's Parks and Recreation Department to photograph and document the island.
Learn about the notorious past (residents included Typhoid Mary) and view spectacular photographs at Payne's lecture, sponsored by the Roosevelt Island Historical Society.
This is the first in a series of spring lectures sponsored by the Roosevelt Island Historical Society.
            The event is FREE and open to the public.
DIRECTIONS: Take the Tram at 59th Street and Second Avenue or the F train to Roosevelt Island. Take the red bus (no charge) or walk eight minutes north to 524 Main Street.