Roosevelt Island Historical Society's Newsletter
In a video produced by documentary filmmaker Allison Pichert Walker, Judith Berdy, president of the Roosevelt Island Historical Society, discusses the importance of the Tram to the Island. Says Ms. Berdy: "Without the Tram, we'd be a very boring, subway-oriented community." (Visit Ms. Walker's website allisonpichert.com to learn about her work with nonprofits.)
This is "The Roosevelt Island Tram" by ap on Vimeo, the home for high quality videos and the people who love…
Lost and Found in Goldwater
A Photographic Record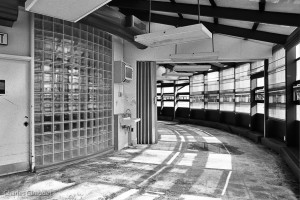 ©Charles Giraudet 2014
 TUESDAY, APRIL 8, 2014

6:30 p.m.
Roosevelt Island Branch, New York Public Library
524 Main Street, Roosevelt Island
Goldwater Hospital's closing gave photographer Charles Giraudet the opportunity to photograph for posterity this 75-year old building. Built by the WPA, Goldwater is a showplace of creative and forward-thinking architecture.  Join Charles Giraudet and the Roosevelt Island Historical Society for a photographic walk through the now silent halls, byways and passages of this architectural masterpiece.
Charles Giraudet's earliest memory takes place in his father's photo studio in Paris, France.  After completing his architecture studies, he moved to New York and worked on projects large and small for over 15 years.   Giraudet came back to photography when he started to look at the camera itself as an architectural artifact—a room that captures light and fragments of life. A small camera collection ensued, with which he has taken images around the globe. Lately, his projects have been revolving around concepts familiar to architects (perception, identity, memory, scale, transformation, the body in space, etc.), and the documentation of the human experience as it is manifested in space. He is currently documenting Goldwater Hospital on Roosevelt Island, New York, which is being demolished to make room for the new Cornell Tech campus.
            Roosevelt Island Historical Society    www.rihs.us

The New York Public Library Roosevelt Island Branch          
This program is free and open to the public.
A friend on the island discovered these 6 photos circa 1968. They show the lsland before any development started in 1970.
Photo 1 The Welfare Island Bridge went directly to the West Road. There was no Main Street. To the south are the Cancer and Neurological Hospitals.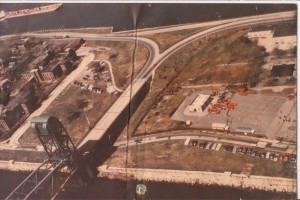 Photo 2 South view of area that now includes PS/IS 217 and Westview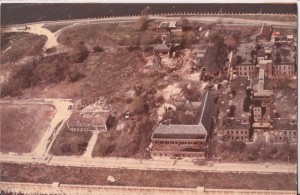 Photo 3 A forlorn and empty Chapel of the Good Shepherd. Next to it is the Good Samaritan German Lutheran Church. The buildings surrounding them were part of the City Home, a home for elderly, sickly and impoverished.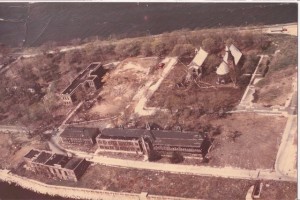 Photo 4 Entwined in the weeds are the three wings of Blackwell House. The north wing was demolished during its 1975 restoration.  To the south is the driveway and entrance to the Central Nurses Residence.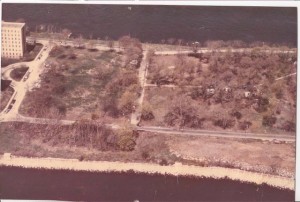 Photo 5 Goldwater Memorial Hospital from the east with the now demolished City Hospital to the south.  The City Hospital was built from east to west across the island.  The walls of the hospital were quarried from the stone on the island.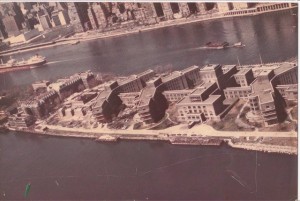 Photo 6 From the south looking to the island is the Smallpox Hospital. The building to the east of the center of the hospital "H" is Brennan Hall, part of the complex. This building was demolished very soon after this photo was taken.  The buildings just north were part of the complex of nursing school and staff housing.