ROOSEVELT ISLAND FEATURED ON "$9.99 with Dave Evans" Click here for flyer
 ROOSEVELT ISLAND TO BE FEATURED THIS WEDNESDAY
ON "9.99 WITH DAVE EVANS"
"Great Outdoors" will have its first airing this Wednesday, December 16th at 9pm.  Remember, our show airs on NYC Life, channel 25 for most, channel 22 on Optimum/Cablevision.  It will rerun as follows:
Fri 12/18/15       2:00pm
Sat 12/19/15      9:30pm
Tue 12/22/15     4:30am
Please tell those you know to watch and feel free to tag us on Twitter or any other social media you're sharing the news on.
The station's twitter handle is @nyc_media and Dave's is @DaveEvans999.
You can also watch the episode anytime online, on our Video on Demand site:
http://a002-vod.nyc.gov/html/videos.php?id=3184
The link will go live at 9pm on December 16th.
Each year, thousands of visitors stop in the Kiosk. Some swoop in, grab a map, and leave, while others are extremely interested in Roosevelt Island and spend time chatting with our staff. Two recent visitors were so pleased with their experiences that they took the time to follow up with e-mails to Judith Berdy.
"[…] thanks so much for remembering to send that!  And thanks for chatting with us on Saturday.  Another really enjoyable visit to RI!  Hope to see you there again soon – have a great week and all the best, Tom."
"I want to thank you for taking time to help me understand and appreciate Roosevelt Island.  I spent more than three hours walking around, taking photos and visiting with people there before taking the tram back to Manhattan. The map was an incredible help.  Something else I got from you was the yellow Archtober brochure.  I attended four interesting tours and lectures which I would not have known about had you not told me about the annual event.  Anyway, now that I'm back in Portland, OR I found your card among my NYC papers and now you know that your presence at the information center on Roosevelt Island made a difference to my NYC experience.  Thank you.  YT,  Corlene"
Roosevelt Island Historical Society's August Newsletter
Here's a link to an article by Judith Berdy, which was published on Politico.com on Saturday, June 13, 2015.
At its heart, this American landmark is a a living, historical embodiment of the major issues Hillary Clinton wants to champion. By Judith Berdy
Roosevelt Island Historical Society's Newsletter
Roosevelt Island Historical Society's Newsletter
In a video produced by documentary filmmaker Allison Pichert Walker, Judith Berdy, president of the Roosevelt Island Historical Society, discusses the importance of the Tram to the Island. Says Ms. Berdy: "Without the Tram, we'd be a very boring, subway-oriented community." (Visit Ms. Walker's website allisonpichert.com to learn about her work with nonprofits.)
This is "The Roosevelt Island Tram" by ap on Vimeo, the home for high quality videos and the people who love…
Lost and Found in Goldwater
A Photographic Record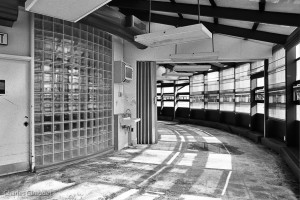 ©Charles Giraudet 2014
 TUESDAY, APRIL 8, 2014

6:30 p.m.
Roosevelt Island Branch, New York Public Library
524 Main Street, Roosevelt Island
Goldwater Hospital's closing gave photographer Charles Giraudet the opportunity to photograph for posterity this 75-year old building. Built by the WPA, Goldwater is a showplace of creative and forward-thinking architecture.  Join Charles Giraudet and the Roosevelt Island Historical Society for a photographic walk through the now silent halls, byways and passages of this architectural masterpiece.
Charles Giraudet's earliest memory takes place in his father's photo studio in Paris, France.  After completing his architecture studies, he moved to New York and worked on projects large and small for over 15 years.   Giraudet came back to photography when he started to look at the camera itself as an architectural artifact—a room that captures light and fragments of life. A small camera collection ensued, with which he has taken images around the globe. Lately, his projects have been revolving around concepts familiar to architects (perception, identity, memory, scale, transformation, the body in space, etc.), and the documentation of the human experience as it is manifested in space. He is currently documenting Goldwater Hospital on Roosevelt Island, New York, which is being demolished to make room for the new Cornell Tech campus.
            Roosevelt Island Historical Society    www.rihs.us

The New York Public Library Roosevelt Island Branch          
This program is free and open to the public.