Archive
You are currently browsing the archives for the Uncategorized category.
Here's a link to an article by Judith Berdy, which was published on Politico.com on Saturday, June 13, 2015.
At its heart, this American landmark is a a living, historical embodiment of the major issues Hillary Clinton wants to champion. By Judith Berdy
Lost and Found in Goldwater
A Photographic Record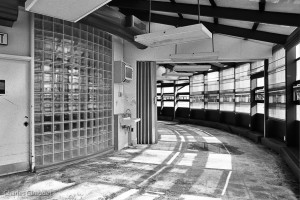 ©Charles Giraudet 2014
 TUESDAY, APRIL 8, 2014

6:30 p.m.
Roosevelt Island Branch, New York Public Library
524 Main Street, Roosevelt Island
Goldwater Hospital's closing gave photographer Charles Giraudet the opportunity to photograph for posterity this 75-year old building. Built by the WPA, Goldwater is a showplace of creative and forward-thinking architecture.  Join Charles Giraudet and the Roosevelt Island Historical Society for a photographic walk through the now silent halls, byways and passages of this architectural masterpiece.
Charles Giraudet's earliest memory takes place in his father's photo studio in Paris, France.  After completing his architecture studies, he moved to New York and worked on projects large and small for over 15 years.   Giraudet came back to photography when he started to look at the camera itself as an architectural artifact—a room that captures light and fragments of life. A small camera collection ensued, with which he has taken images around the globe. Lately, his projects have been revolving around concepts familiar to architects (perception, identity, memory, scale, transformation, the body in space, etc.), and the documentation of the human experience as it is manifested in space. He is currently documenting Goldwater Hospital on Roosevelt Island, New York, which is being demolished to make room for the new Cornell Tech campus.
            Roosevelt Island Historical Society    www.rihs.us

The New York Public Library Roosevelt Island Branch          
This program is free and open to the public.
Evoking Edward Hopper's "Blackwell's Island"
Curated by Judith Berdy and Sean McGee
The Roosevelt Island Historical Society is proud to present the opening of a new exhibition, Evoking Edward Hopper's "Blackwell's Island", at The Octagon Gallery, 888 Main Street, on Roosevelt Island. The Opening Reception will be held on August 12, 2013, from 5-8 pm in The Octagon Gallery. Evoking Edward Hopper's "Blackwell's Island" may also be viewed during normal Gallery hours from 10am-8pm daily, through September 7, 2013.
On May 23, 2013, Edward Hopper's original oil canvas, Blackwell's Island (1928), was sold at Christies for 19.2 million dollars during the auction house's American Art sale. Hopper's famous work has been previously exhibited by several prominent galleries, including the Carnegie Institute, The Whitney Museum of American Art, The Museum of Modern Art, as well as the Museum of Fine Arts in Boston. The most recent Roosevelt Island Historical Society exhibition, Evoking Edward Hopper's "Blackwell's Island", will feature a full-size canvas reproduction of Blackwell's Island, alongside photographs of the actual historical images which are part of the Roosevelt Island Historical Society's collection of buildings, scenery, and people which Edward Hopper depicted in the work. The intent of the exhibition is to provide visitors with an historical exegesis of Mr. Hopper's work while, simultaneously, personalizing it through a display within The Octagon, which is one of the buildings prominently featured in the painting itself.
The Roosevelt Island Historical Society extends special thanks to those sponsors who helped make this exhibition possible including Christie's, Becker + Becker, PRC Management, and Gallery RIVAA.